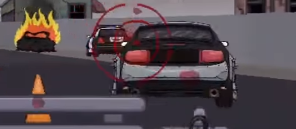 John Creaseman's Car is a vehicle featured in Road of the Dead,Road of the Dead 2.
In ROTD2 you can see John Creaseman passing you in downtown highway screaming YEEHAW SMILE BABY!!!
It's a pretty good vehicle for zombie apocalypse but it's faster than a humvee it has the wipers and front window unlike the humvee from ROTD2.
This car is based on a 2005 Ford Mustang MKV.